!

Warning:

This song contains explicit lyrics and themes; it may be inappropriate for younger audiences.

The Vocaloid Wiki does not have a policy on lyrical content or theme; however, it attempts to follow the Wikia TOU.
For further discussion see Thread:68883. Explicit songs are automatically sorted into this category.

!
This song article is lacking a proper background. You can help by adding one! The relevant section in the Song Article Guideline is a good starting point, and this blog post may also be helpful. We apologize for the inconvenience this may cause in the meantime.

Song pages lacking proper backgrounds are automatically sorted into this category.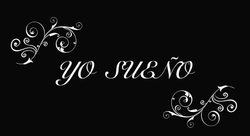 Song title
Spanish: "Yo sueño"
English: "I Dream"
Uploaded April 14, 2014, with 1,000+ views
Singer(s)
MAIKA
Clara (chorus)
Producer(s)
Spikatto (music, lyrics)
Links
YouTube Broadcast
Background
Edit
Yo sueño is an original song by Spikatto sung by MAIKA featuring Clara in the chorus. This song was entered in the MAIKA Original Song Contest.
Yo sueño, Yo sueño, con no despertar
Y no volver a éste mundo infernal.
Gritos, maltratos, ¡ya no aguanto más!
Y si depierto me voy a suicidar.

Mi sueño, mi sueño, es ser muy feliz
Pero jamás lo sere si sigo aquí
Por eso, es eso, que quiero escaper a ese lugar.
Llamado "irrealidad".

Yo sueño, Yo sueño, con no despertar
Quedarme en mi mundo de fantasia
Yo quiero, yo quiero, morirme ahora
Para así no seguir sufriendo más.

Ésta noche te miraré yo dormir
Para ver si eres igual de infeliz.
External links
Edit
| | |
| --- | --- |
| | Official |