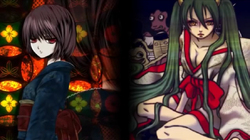 Series title
"夕闇ノ殺メ唄 / 紅蓮百鬼夜行"
Romaji: Yuuyami no Ayame Uta / Guren Hyakkiyako
English: Twilight Homicide Song / Red Lotus Pandemonium
Uploaded June 4, 2011
Featuring
Singer(s): MEIKO and Hatsune Miku

Character(s): The woman, the girl, the man
Producer(s)
Kiraboshi Hikaru (music)
Yura Hatsuki (lyrics)
Kuromin (illust, video)
Kuri (illust)
58-86-6 (video)
| | | |
| --- | --- | --- |
| " | Even if you regret what you've done, it's already too late | " |
"Yuuyami no Ayame Uta" and it's answer song "Guren Hyakkiyako", tell the story of a deadly love triangle.
A man (KAITO) once had a childhood friend (MEIKO) and promised to marry her. However when they had become adults, the man left the woman for a naive girl (Miku), turning woman angered and heart broken. The naive girl however realizes he's cheated on another woman with her rather than been with her and her alone. She then transforms into a golden demon and curses him to die along with her, believing hell is the only place where they can be together. Sometime after, the scorned woman comes to them and kills the girl and later the man to make him hers alone, presumably influenced by the girl's curse.
| | | |
| --- | --- | --- |
| | Before adding translated or subbed videos, please read this tutorial to avoid listing gravely mistranslated ones. | |
夕闇ノ殺メ唄 (Yuuyami no Ayame Uta)

Uploaded
June 4, 2011
Featuring
MEIKO
Music
Kiraboshi Hikaru
Main article
夕闇ノ殺メ唄 (Yuuyami no Ayame Uta)
Lyrics
Yura Hatsuki
Video
kuromin (illust, video)
The first released song, which shows the story from the woman's point of view.
紅蓮百鬼夜行 (Guren Hyakkiyakou)

Uploaded
December 14, 2011
Featuring
Hatsune Miku (append)
Music
Kiraboshi Hikaru
Main article
紅蓮百鬼夜行 (Guren Hyakkiyakou)
Lyrics
Yura Hatsuki
Video
Kuri (illust), 58-86-6 (video)
The second released song, showing the story from the girl's point of view.
Both women sing japanese nursery rhymes before enacting revenge on the man. The scorned woman sings "Kagome Kagome" and the naive girl sings "Touryanse".
Ad blocker interference detected!
Wikia is a free-to-use site that makes money from advertising. We have a modified experience for viewers using ad blockers

Wikia is not accessible if you've made further modifications. Remove the custom ad blocker rule(s) and the page will load as expected.