Yuzuki Yukari VOCALOID3 VOICEROID+ VOCALOID4
Yuzuki Yukari

Biographical information
Gender

Female

Age

18

Height

159cm

Weight

Private

Voice

Chihiro Ishiguro

Illustrator

Juu Ayakura

Product information
Company

AH-Software Co. Ltd.
Vocalomakets

Language

Japanese

Affiliation
Yuzuki Yukari (結月ゆかり) is a Japanese VOCALOID developed and distributed by AH-Software Co. Ltd. and Vocalomakets. She was initially released in December 2011 for the VOCALOID3 engine. She is also available as a VOICEROID+. In March 2015, she was updated to the VOCALOID4 engine and was given two additional voicebanks.[1][2] Her voice is provided by the Japanese female voice actress, Chihiro Ishiguro (石黒 千尋; Ishiguro Chihiro).
The concept for Yukari is "People who are related to the VOCALOID connect the sounds/moon to one another," (VOCALOIDに縁のある人達が音(月)を結ぶ). The English title is "She unites you all with her voice." She is loosely inspired by the legend of the moon rabbit.
Her age, weight and height were supplied in "ボカロPlus vol.4". According to Vocalomakets member, Kagome-P, she is a cup size A or B.[3]
Etymology
Edit
Her family name, "Yuzuki", is derived from the words connect and moon. Her given name, "Yukari", is from connection or relation. It can also mean "violet," in relation to her color scheme.
VOCALOID Releases
Edit
VOICEROID+
Edit
AH-Software released Yukari as a VOICEROID+ voicebank. She is the first VOCALOID to be released in both formats from AH-Software and the second VOCALOID to have a spoken version, with Gachapoid being the first via V-Talk. VOCALOID allows several tones of vocals that show different emotions. However, it is intended for singing rather than speech. On the other hand, VOICEROID offers the chance for users to make  rap songs easier, or using her VOICEROID in conjunction with her VOCALOID voicebank, allowing her to "speak" during songs.
In 2015, most of the Voiceroid and Voiceroid+ vocals were upgraded to Voiceroid+ ex, Yukari included.[4]
ExVoice contains additional samples for Yukari, some of which include laughter, giggling, and weeping. The software has also been updated to add more samples to the package. Users can log onto the AH-Software website to retrieve the additional samples if they own the older version. More updates on this extension are planned in the future.
Examples of Usage
Edit
Music featuring Yuzuki Yukari
This VOCALOID is featured in 34 songs and on 46 albums on this wiki.
There are listings for notable, original and cover songs.
External search →
To our readers and editors: For section notes, please read this tutorial. And before adding translated videos, please read this tutorial.
ユカユカ☆ヘヴンリーナイト
双極性トランキライザー
クロウガール

| | |
| --- | --- |
| Romaji/English | Crow Girl |
| Featuring | Yuzuki Yukari |
| Author(s) | Yono-P |
| Category | Original song |
More Examples 
Frontier

| | |
| --- | --- |
| Romaji/English | Frontier |
| Featuring | Yuzuki Yukari |
| Author(s) | LIQ |
| Category | Original song |
観覧車
AURORA

| | |
| --- | --- |
| Featuring | Yuzuki Yukari |
| Author(s) | Dahiz |
| Category | Original song |
caged girl

| | |
| --- | --- |
| Featuring | Yuzuki Yukari |
| Author(s) | Bumpy Urushi |
| Category | Original song |
Marketing
Edit
Yuzuki Yukari is aimed at the producers themselves rather than the general VOCALOID fandom. She was also made to be capable of being bought with many different other software bundles, including both her VOICEROID and VOCALOID versions, as well as the software suite Music Maker MX.[5]
In 2012, merchandise of both her and SF-A2 miki was released, including mugs and T-shirts.[6] More merchandise were released in 2013, which includes another T-shirt design.[7]
SequencerPlus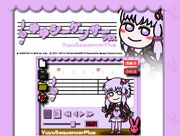 Unveiled during an AH-Software broadcast broadcast on Ustream, VOCALOMAKETS has now added two online flash applications for making short snippets of songs with the Yuzuki Yukari voicebank to their website,YuyuSequencer Plus, and YuyuSequencer. Finished songs can be shared via Twitter, Facebook, or mixi. They are transferred via a plain text format called "YuyuSeq Code." An English interface is supposedly coming soon.
Game
Yukari is due to appear in the Social RPG "Hack Doll - Nightmare Sequencer" (ハックドール-Nightmare Sequencer-) by Mobage. The game is for the Android, and Yukari is unlockable by meeting certain conditions within the game.[8]
Other Software
Yukari has had her vocal featured in a number of additional software packages, making her vocal the most extensive
of any VOCALOIDs who possess just one voicebank, and gives her, overall, the most potential thus far. Some of these packages can be bought with Yukari upon purchase, although users who manage to master her vocal may consider these packages as part of their future planning.
Clothing
A jacket was produced based on her own jacket design.[9]
Figurines
A PVC figure of Yukari was produced by Pulchra. The PVC figure has a garage kit version as well, which was produced by Biifuru. The release date was planned for December 22, 2013, then it was later changed to March, 6, 2014. It was finally released on March 15, 2014.
3D model
An official 3D model of Yukari appears in the software "AHS キャラミん Studio," alongside Tohoku Zunko. Guest feature model, GUMI, in her Megpoid and V3 Megpoid versions are also featured in the software.[10] As part of marketing for this, a event was held where participants could do karaoke to Yukari and Gumi songs. A drink based on both girls were also offered at the event.[11]
Live Event
Yukari featured in a special live event on the September 15th. In this event, she was featured "playing" the game Minecraft.[12].
Note; The Voiceroid software has often been used by Japanese gamers to narrate gameplay in "Let's Play" videos, sometimes portraying the character itself. Yukari is one of the more popular voices to appear in these videos. As such, there is numerous fanart of Yukari in these games (notably Minecraft, as mentioned above) on sites such as Pixiv and Nico Nico Douga.
Line Emoticons

Yukari has a featured, limited edition emoticon set for the app Line, a Japanese chat application/social site. The emoticons feature several different chibis of Yukari with various expressions from happiness to sadness to sleeping. The emotes were available for a limited time and were priced at $1.99 USD.
Gashapon dispenser
She has had merchandise appear in gashapon dispensers.[13]



Additional information
Edit
Popularity
Edit
Yuzuki Yukari Popularity
To our readers and editors: For section notes, please read Wiki notes:Popularity sections.
Reaction
Yukari has been one of the more successful Vocaloids in the V3 era. Her first 1 million hit song on Nico Video came in December 2014 with the original song "There's Supposed to Be a Cheat Code for Happiness". However, this number was reached nearly 3 years after her release, Yukari was slower to gain popularity compared to IA (who is considered the most successful new Vocaloid3 vocal).
Impact
Her success lead to two new additional vocals for Yuzuki Yukari V4 as well as a vocal update for her V3 vocal.
Miscellaneous
In 2015 a survey was made based on the popularity of Vocaloids on website Nico Video. For the year 2014, Yukari was the 8th most popular Vocaloid.[14]
Notable for...
Edit
First VOCALOID to also be released as a VOICEROID.
First AH-Software VOCALOID for VOCALOID3.
Has VOICEROID+ex update
First AH-Software VOCALOID to be updated.
First AH-Software VOCALOID4.
First AH-Software VOCALOID to receive additional voicebanks.
The image gallery for Yuzuki Yukari may be viewed here.
References
Edit
External links
Edit
| Language | Description | Site |
| --- | --- | --- |
| Japanese | AH-Software official homepage | Link |
| Japanese | VocaloMakets official homepage | Link |
| Japanese | VOCALOID Yukari product page | Link |
| Japanese | VOICEROID Yukari product page | Link |
| Japanese | AHSoftware The official YouTube channel | Link |
| English | deviantArt , art and media community | Link |
| Japanese | Pixiv , art and media community | Link |
VOCALOID vocal library plug-ins
---
---
---
---
---
---
VOCALOID by Voicebank gender factor